Do you want to attract, retain and develop more female talent and become an employer of choice?
---
The Gender Code Ally is a 6-month HR program that provides you with the expertise and guidance you need to develop and implement more meaningful and engaging D&I strategies and initiatives.
"How great is this partnership! Thank you, Danielle, for taking the time to understand our organisation, helping us put strategies in place to help make Harris HMC a better place to work and improving female representation. And yes, it takes commitment - we have that in spades!"
---
Denise Nezis, Group People & Culture Manager, Harris HMC
To better understand the pressures, problems and perspectives of her coaching clients, Danielle has conducted a grounded theory research project over the past 2 years interviewing over 52 leaders across a diverse range of industries holding honest, open conversations and building trust and connection. Distilling the information, insights and themes based on confidential conversations and further research Danielle has literally written the book about the hidden codes that govern our lives and has discovered solutions to help people make life work well.
As a result of the research Danielle has also developed the QUARC framework and CIRCLE methodology.
This is unique to Code Conversations™. Danielle's experiences as a mother flying solo, family leader, business founder, community member and volunteer drives her to build capacity to cut through the noise, waffle and excess. She can focus on what is relevant and needed while being human and understanding what is at the heart of the issue.
She now gives presentations, workshops and 1:1 sessions to those who want to feel like who they are is enough and realise their full potential.
why have the
code conversation?
---
We all know that a 'tick box' approach doesn't work – it just leads to a disengaged, disenfranchised workforce.
And despite your best efforts, your DE&I efforts will fall flat without specialist guidance and a collaborative approach.
The Gender Code Ally Program leverages my evidence-based CODE methodology to help you develop winning DE&I strategy, policies, programs and campaigns that truly empower women, meet the needs of all stakeholders AND achieve your critical goals.
It's the perfect program for your organisation if you need the specific expertise and guidance required to:
engage and retain more women,
leverage their skills and talents,
develop a culture of advocacy for diversity, equity and inclusion, AND
hit your critical business KPI's and targets.
Get in Touch
t

h

e

p

u

r

p

o

s

e

o

f

d

e

c

i

p

h

e

r

i

n

g

t

h

e

c

o

d

e
---
Do you feel you are constantly making compromises and feel conflicted about work and other important areas of your life? Perhaps you have an either/or approach where you think you can have a career or family, career or love. Maybe you think you have to blend your worlds together which is hard to do.
There is a 3rd alternative which you may not even know exists.
To access this, you can navigate through the difficulties, judgment and guilt with simple yet powerful strategies:
Question and understand where you are at right now and what your unique context is
Understand how your context is influencing you and what message you are buying into
Ask if it makes sense anymore
Choose where you want to go
Build on what you already have
Create a new world that works for you, rather than against you
---
The Gender Code Ally Program is a good fit for you if:
Talented women are leaving, and you want to retain them, and become an employer of choice
You're sick of just ticking the box, and want DE&I strategies and plans that are effective, implemented and embraced at all levels
You need to be on top of your strategic deliverables and want guidance and support from a subject matter expert
You are feeling the pressure and need help to stress test your ideas, develop and implement best-practice programs, build internal advocacy and get buy in from your decision makers.
How the Gender Code Ally Program Can Help
Implementing diversity, inclusion and belonging initiatives can be challenging. Sometimes people can resist or implementation goes halfway. Similar to a half-baked cake – one side may be firm and the other side underdone and gooey. Ticking the box on inclusion is like a half baked cake – good intentions but can be runny and undercooked.
Our Framework for Success
From my deep research of the diversity problems in business through both extensive interviews and hard won experience at the proverbial coal face, I've developed my CODE process, a four step framework that supports business with their diversity challenges.
In this process we will:
Collaborate and Co-design
Organise resources
Design strategies
Execute & Empower
The Gender Code Ally Process & Your Business
Over the 6 month engagement, we'll work through each of the steps in the CODE Framework to take your business from where it is today, to workforce with clear playbook for diversity which will help you foster a highly connected, supported and productive workforce.
1) The first step of our engagement will helping you to understand where you want to be, where you are now and what the gaps are. We do this by really talking to the people on the ground and the leaders and see where are the opportunities to bring those two together.
2) Once we know where you and your business is, we'll take a look at the resources and insights and ideas from the people you have inside your organisation right now, which can be leveraged.  You'll be surprised to find talent and ideas that already exist in your organisation.
3) With a clear understanding of where your business is and what resources are available we'll wok together to design two or three strategies to implement your own unique playbook that will create the culture you want and close the gap in terms of people and business performance.
4) Then we support you as you execute your strategies so that everyone feels respected heard, and there is the opportunity for greater equality and sense of belonging
Download Program
stuck in a boy's club?
we can help!
---
Are you a female who is stuck in an unsupportive business environment?
We offer limited slots of bespoke personal coaching tailored for women who don't want to follow the status quo in life and are looking to transform both their career and life and make them successful & exceptional.
Get in Touch
---
Join HR Professionals from around the country every month to discuss and share key learnings and practical strategies in navigating critical challenges, that can enable organisations and their people, during a time when Australian workplaces are changing at an unprecedented rate.
You have the opportunity to:
Share what's happening in your world
Share your best practices
Celebrate what's working well
Talk about pitfalls to avoid
Network with other HR professionals
Contribute to your professional development
Find Out More
Explore The Gender Ally Conversation
---
"By helping women and men to understand the impact of the Gender Code, they can recognise the full set of gifts they bring to home, work and the community."- Danielle Dobson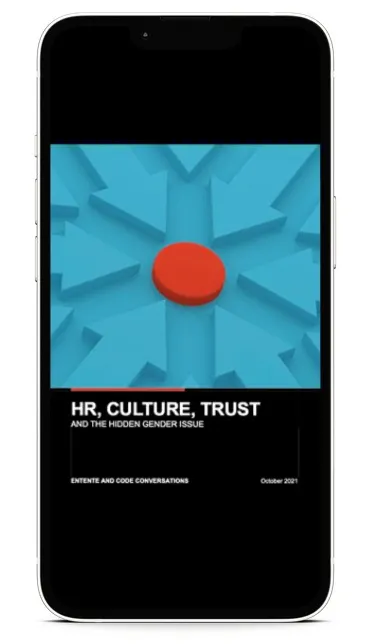 Get your copy of the white paper collaboration between Entente & Code Conversations
HR, Culture, Trust
& the Hidden Gender Issue