use what you've already got to get what you actually want
the code conversationalist
---
To better understand the pressures, problems and perspectives of her clients, Danielle has conducted a grounded theory research project over the past 2 years interviewing over 50 women in leadership roles across a diverse range of industries. People she spoke with included CEOs, CFOs, COOs, CIOs, GMs, senior VPs, partners, directors, senior executives and business leaders who were also parents. The majority of the women work for large well known Australian corporates  and international companies.
Distilling the information, insights and themes based on confidential conversations and further research Danielle has literally written the book about the hidden code that governs our lives – the Gender Code – and has discovered how to unpack it and provide solutions to help people leverage the strengths and skills they already have to define and achieve their own version of success.
As a result of the research Danielle has also developed the QUARC framework and CIRCLE methodology. This is unique to Code Conversations ™.
"Danielle has literally written the book about the hidden code that governs our lives – the Gender Code - and has discovered how to unpack it and provide solutions to help people leverage the strengths and skills they already have to define and achieve their own version of success"
People who are talking about us!
---
"Danielle presents from a position of authority with her wealth of experience in business and as a mother. Brimming with positivity, she really expresses her passion for breaking the Gender Code," – Tony Holmwood
"Danielle puts the idea of breaking the Gender Code in a totally relatable way. I love that the idea came out of the mouth of a child! Awesome presentation," – Su Temlett
"Your passion, knowledge and delivery was exceptional for our members. It is always fabulous to listening to a meaningful keynote, but truly memorable to witness the audience relate and engage," – Sarah Lisle, Research Entities at University of Wollongong
"The insights from your research and your counsel have been invaluable in helping us not only define the event itself, but in thinking about what helps and hinders our approach, always with outcomes and impact at the forefront of your guidance. It was a pleasure to have you host our Women in Leadership event," – Carly Little, General Manager – People, Safety & Sustainability at Workwear Group
"Danielle Dobson is an authentic, inspiring and talented leader, speaker and facilitator who exhibits the qualities of a true change agent. Her intellect, communication style and insights influence teams and individuals who have the opportunity to hear her speak, or who participate in her powerful programs," – Lyn Hawkins, Managing Director at Business Women Australia
"For years as a working Mum of 3 children I struggled with the guilt of not being the 'stay at home' Mum that my Mother was. Instead I had a stellar corporate career which brought our family significant comfort and choice and took me all over the world. Despite the fact that my husband was a wonderful work from home Father and was always there for our daughters, my Mummy guilt pursued me and I never shook the deeply ingrained belief that it was really my job to do all the nurturing and that I somehow had to fit all that in around the edges. No wonder I often felt like a failure.
After reading this book I know why I felt like this and that there is another, better way. Danielle Dobson has written 'Breaking the Gender Code' for every woman that has felt the way I have. She has uncovered not only why we feel this way, but also given us a framework for choosing a different path in defining our own code. A code that is unique to us, one that will serve and support us and our families and not damage us with shame and guilt.
If you're a working Mum please read this book, it could set you free. If you're interested and invested in supporting working Mums and helping them live into their full potential at home and at work please read this book. If you're interested in the societal norms that govern our world today, read this book. Breaking the Gender Code can help us all understand what is holding us back from living the lives we really want and empower us to design our own codes, because we are all uniquely and beautifully different."
"Danielle Dobson's book "Breaking the Gender Code: How to use what you already have to get what you actually want" makes an important contribution to women, families, and society. Like understanding the structures and illusions that allow a magic trick to appear 'magic', understanding the gender code helps us see the beliefs and structures that put so much pressure on women.
Thankfully Danielle goes further than that, providing a framework for each of us to envisage, create, and live our own code. This book is powerful! "
"I read this book to help me understand the challenges facing the women in my life. I found many of the elements enlightening and am confident it will help me be a more supportive person. The book makes a valuable contribution that helps us think about what is really true about ourselves and others and what are just the things picked up along the way by accident of our sex, culture or nationality. Identifying that these are not intrinsic to us is the first step in being able to make a change. Unexpectedly, as a working co-parent I also found myself identifying with most of the challenges of the "Lean In" generation of mothers and found myself ticking a good portion of the female characteristics which make up the Gender Code.
The most impactful section for me was the last section which helps in identifying how to make the changes in our life, using what the author called the CIRCLE approach. I won't go through it all but will mention that it starts with determining your Core purpose. This makes a lot of sense as only by knowing the Core purpose will you be able to make the decisions and compromises you need to in your life as you manage the conflicting demands of work and family.
The book is a good reminder that life can be a challenge for women. But whether intentionally or not I think the true message transcends the challenges of being a female and is instead about the challenges of being human, if you strip away the code we are not that much different. Not just for women and mothers, you should buy this book if you are a parent who wants to work how to make a meaningful contribution at work whilst also making the time to develop flourishing little humans."
"What an insightful book! Danielle Dobson's thorough research of more than 50 top women leaders in business who are also lead parents sheds light on how the gender code play out in our work and home lives. Her framework for writing your own code so that you can feel more engaged and learn to thrive is so valuable. A wonderful book for anyone wanting to find a better way to balance work and family."
"The Gender Code dissects the embedded societal beliefs that busyness and productivity equal worthiness. It is a fantastic book for women, especially busy working mums who constantly feel like they are juggling 15 balls all at once. I found it to be an easy read that contains loads of practical advice. I know I will refer back to it again and again, and gain new insights each time."
"Danielle has a warm and personable style that invites the reader in and lets them know they can trust her. I love the way Danielle asks so many questions in the book allowing readers to come up with their own answers.
Every time I dip into your book I think back to my days as a hands-on mum. I think how differently I would have mothered if a book like yours had been available 25-30 years ago. I think too of how my mum mothered and how different things could have been for us kids if she knew this stuff as well.
My childhood and my kid's childhood were safe and as good as possible given what my mum knew and what I knew. But I'm glad for my grandies who are being raised differently because their parents see life differently."
"Congratulations on bringing your research in a way that is so clear and relatable. Thanks for taking the time to interview women who are saying so much of what the rest of us are thinking."
"Breaking the Gender Code contains lots of helpful support for women, suggesting ways they can bring their lived experience as mothers to work and their lived work experience to their parenting. Both women and men have missed being human, (being, feeling and doing what is right for us) in falling into the coding and stereotypes that society has provided to us.
Breaking the Gender Code can open our eyes to being part of a more human future."
"There is so much in your book that I resonate with. I only highlight in books that really have an impact on me and that I want to read again. Your book is getting the highlighter treatment!! This highlighted sentence ["If you realise how important you are, can you dial down the busyness, release some of the pressure and take your focus off productivity?"] has had a great impact on me as its been what I have been trying to do in the last few years and am only now beginning to feel comfortable with having that mindset.
I have a couple of friends with whom I can have some great chats about many things you talk about in your book.
I feel that through talking about our challenges we can support each other and help each other manage our individual challenges."
"Danielle's book is like the bible to women issues. So much to unpack, learn – something for everyone. Danielle must've spent so much time learning, listening, organizing her thoughts. What powerful knowledge to have? Bravo mama!"
Danielle is warm, friendly and non-judgmental. She has a certain calmness and positivity about her. She actually makes you feel like you can achieve anything. Danielle helped me uncover what was there all along. Any feelings of insecurity and self-doubt were soon replaced with feelings of energy and positivity. My sessions with Danielle have enabled and encouraged me to make changes at work, set goals and be excited about achieving them.
Raelene, Business Systems Analyst
I would highly recommend Danielle as a Coach. Her questioning skills are first rate and she really places emphases on challenging the client comfortably to think outside the norm. Danielle also helped me focus on the 'Why' rather than just the 'how'. Danielle is very intelligent and personable and this combination is what makes Danielle a sought after coach.
Helen, Career Coach
Danielle's warmth, humour and empathy immediately made me feel relaxed and together we worked out what I wanted to achieve and what has been stopping me in the past. There was never any judgment and she never told me what I should do. Danielle asked questions until I came up with the answers. The change came from within me so it felt safe and achievable.
I feel I am at the start of an exciting journey and I can't wait to see where I go next!
Belinda, Senior Coordinator Marketing, Media and Communications
Danielle is an exceptional coach. She holds space masterfully and brings curiosity, positivity and warmth to the discussion, allowing me to find my own answers and feel joyful about my decisions. I'd highly recommend working with Danielle if you want to grow toward a happier, more productive and more powerful life.
Melanie, Founder
Your passion, knowledge and delivery were exceptional. It is always fabulous to listen to a meaningful keynote, but truly memorable to witness the audience relate and engage.
Sarah Lisle, Manager Special Projects (Wellbeing), JCI Australia National President
Once in a while you cross paths with someone who introduces you to a whole realm of new possibilities. For me Danielle is one of those people. As a GP I had to learn how to care after myself the same way I cared for my patients. Now I see that my wellbeing isn't just an outcome but the starting point.
Mark, General Practitioner
Danielle's knowledge, professionalism, enthusiasm and clear commitment to her clients and business partners is exemplary. Her support on a pro bono basis has helped us to develop a unique, Australian-first program focused on supporting mothers to raise respectful sons. Simply, Danielle empowers women to understand, support and drive themselves, by identifying and using each person's individual strengths and dreams.
Sally, General Manager at local Women's Health Centre
To better understand the pressures, problems and perspectives of her coaching clients, Danielle has conducted a grounded theory research project over the past 2 years interviewing over 52 leaders across a diverse range of industries holding honest, open conversations and building trust and connection. Distilling the information, insights and themes based on confidential conversations and further research Danielle has literally written the book about the hidden codes that govern our lives and has discovered solutions to help people make life work well.
As a result of the research Danielle has also developed the QUARC framework and CIRCLE methodology.
This is unique to Code Conversations™. Danielle's experiences as a mother flying solo, family leader, business founder, community member and volunteer drives her to build capacity to cut through the noise, waffle and excess. She can focus on what is relevant and needed while being human and understanding what is at the heart of the issue.
She now gives presentations, workshops and 1:1 sessions to those who want to feel like who they are is enough and realise their full potential.
why have the
code conversation.
---
Code Conversations™ focus on women as they have a crucial role to play in all levels of leadership right now and into the future. Women in organisations who are also parents and/or carers typically bring highly sought after skills such as empathy, perspective, critical thinking, adaptability, prioritization and creativity. These women and their strengths are a huge asset to organisations and they may not be supported, nurtured and utilised right now.
If you are invested in diversity and inclusion and would like to increase the contribution of women in your organisation or you see the need to unlock the discretionary effort of your people then together we can deliver workshops and programs which will give them a constructive voice and positively impact all levels of your organisation.
Read More
t

h

e

p

u

r

p

o

s

e

o

f

d

e

c

i

p

h

e

r

i

n

g

t

h

e

c

o

d

e
---
Do you feel you are constantly making compromises and feel conflicted about work and other important areas of your life? Perhaps you have an either/or approach where you think you can have a career or family, career or love. Maybe you think you have to blend your worlds together which is hard to do.
There is a 3rd alternative which you may not even know exists.
To access this, you can navigate through the difficulties, judgment and guilt with simple yet powerful strategies:
Question and understand where you are at right now and what your unique context is
Understand how your context is influencing you and what message you are buying into
Ask if it makes sense anymore
Choose where you want to go
Build on what you already have
Create a new world that works for you, rather than against you
about danielle and the gender code
---
My name is Danielle Dobson, and I'm a speaker, coach and advisor who is on a mission to help women and men to break their Gender Code, unlock their potential and create a more fulfilling career and life. And at the same time, update the structures we all operate within to build in more fairness and respect so everyone feels like they belong.
I'm also a Lead Parent to three boys. I love living near the sea with my kids and my dog.
In a professional sense, I spent 14 years as a Certified Practicing Accountant in private practice to multinationals across 4 countries, in not-for-profit agencies, and I have a long history in the wellbeing space as a Certified Personal Trainer, Wellness Coach and now an Executive Coach and Mentor.
Sounds impressive? It's been an 'interesting' adventure littered with navigating career, travel, international relocations, relationship transitions and family responsibilities.
Like many of us, at times I have been overwhelmed, exhausted and worn out. My biggest derailer is when I feel unsupported in my role as Family CEO.
Back in October 2017, I felt stuck and powerless. I didn't think I could be the parent I wanted to be to my 3 boys and at the same time, achieve the level of success I wanted in my business, without feeling like I was failing at both.
From my work as an executive coach to professional women, I knew that I wasn't alone in this struggle.
Many of the women I was working with felt this same tension between succeeding at work and at home. And in the process, they found it almost impossible to prioritise self-care and their wellbeing was really suffering. Most of these women shared with me that they felt frequent overwhelm, anxiety, exhaustion and some were burning out.
And this was before the pandemic!
At that time, I was in Seattle with my coach Pam, exploring my future in a three-day intensive business coaching course. And I was out of ideas, feeling incredibly uncomfortable about ramping up my business.
I was afraid of the future, because I thought it meant more incredibly hard work, incredibly long hours, family absence and burnout, not being able to do anything properly. A tough gig for a person who can't multitask.
But I had committed to travel halfway across the world to work with Pam – a coach who I trusted to have my back. As a specialist, she was exactly the person I needed to help me find the courage, framework and confidence take the next important steps forward in my business and life.
Then Pam said a few magic words that changed everything – 'You have got to get to know the people you want to support and coach better. What is going on for them? What are their biggest challenges? How can you help them?'
At that moment, I realised the power of conversation in realising what's possible. I saw the faulty beliefs that had been holding me back, shaped by gender bias and societal norms about what a woman 'should' be and how she 'should' operate.
And I also saw that with my own lived experience, I also needed to seek other perspectives to gain a deep understanding of why we, as women, had these limiting beliefs and expectations, and what we could do to conquer them.
The next two years were spent intensively researching the problems, causes and solutions around gender bias and societal norms, interviewing over 50 women leaders (and a handful of men) to gain important insights, and backing this up with historical, scientific and social research.  These conversations, which I now call Code Conversations™, uncovered the personal algorithms that define their lives in terms of expectations, rewards, punishments and roles.
These Code Conversations resulted in my book, Breaking the Gender Code: How women can use what they already have to get what they actually want.
Fast forward to today, and I am inspired and motivated to educate and coach others in speaking engagements, bespoke events, and my signature program, the Gender Code Ally.
This is an incredibly important time in history for women and men at work. With changing cultural norms and a focus on diversity, we have the chance to work together to get it right!
If you're feeling inspired and want to talk to me about anything you've read, take the first steps and reach out to connect with me.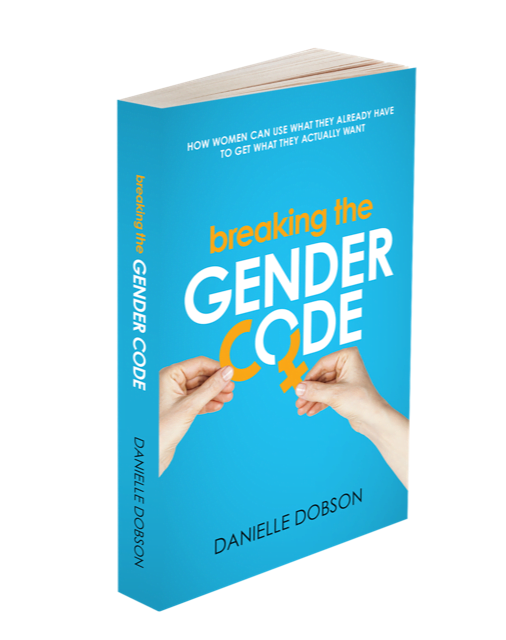 Grab your free copy of the first chapter of
Breaking the Gender Code